The candles I'd put in the Chanukah menorah fell over. The large Sikh leader – broad, tall, flowing white clothes and silver beard – and the diminutive Buddhist nun – small, dark robed, shaved head – leapt forward together to catch the candles. The Sikh and the Buddhist quickly placed the candles back in the menorah, so that the nice Jewish lady could light them. She then lit the candles and said the prayers, up at the front of the Methodist church, in front of over 300 people from at least eight different faith communities.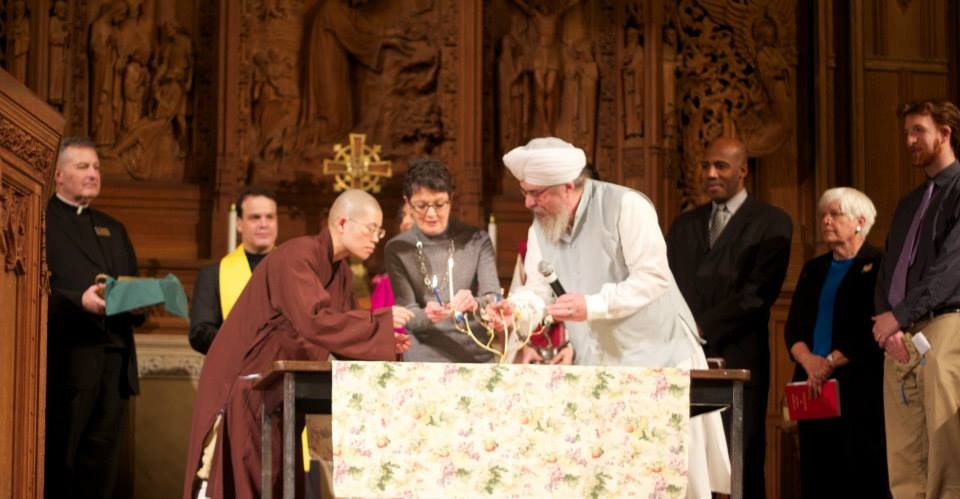 [Photo by Nils Peterson, used with permission of Interfaith Action of Evanston.  Full set of event photos available on Facebook.]
That's how my holiday season began, at an interfaith service the night before Thanksgiving.  I witnessed a spontaneous act of collaboration.  Nobody told those folks to help each other.  No incentive system was in place to reward collaboration.  No calculations were involved. Just an instantaneous, instinctive act of mutual support.
That sets the bar pretty high for many of us.  Often we struggle with raising the level of collaboration in our own organizations.  There are a few obvious challenges:
Most of our organizations are built on competition (and with good reasons)
While many of our organizations talk about values, few are as rooted in their values as the communities represented that night (and fewer still have selflessness as one of their corporate core values)
Most of us work for a living, our living depends on how well performance and behavior match incentives, and incentives are usually tied to outcomes
Even so, there may be a useful lesson.  The kind of instinctive collaboration I saw that night is about culture and values.  The right incentives can help reinforce collaboration. The wrong ones can certainly get in the way. True collaboration, though, doesn't come from a begrudging calculation of self-interest, or from your fears that you might fail.  It comes from your genuine hope that the other person succeeds.  You could almost call it the Golden Rule of collaboration: collaborate with others as you would have them collaborate with you. Maybe we can find ways within our organizations – and beyond – to remember that this season and into the new year.
[Scott Nadler is a Senior Partner at ERM.  To share this post, see additional posts on Scott's blog or subscribe please go to snadler.com. Opinions on this site are solely those of Scott Nadler and do not necessarily represent views of those quoted or cited, ERM, its partners or clients.]