As the US BCSD annual meeting came to a close, I urged participants to reach out to colleagues using all the digital channels we'd created.  I reminded them to connect colleagues with the Twitter hashtag #scaleup, the LinkedIn connection, and even the google+ community.  Then on the spur of the moment I added: "And you can use the most social media of all — talk with them."
We had gone proudly digital at this meeting.  We shared documents on Google.  We created our own Twitter hashtag just for the meeting. We exchanged email lists. Some of us even connected with each other on LinkedIn while sitting in the same conference room.
There was a purpose to all this.  It wasn't just to pretend we were cool (or that some of us aren't that old). We made a conscious decision to create multiple channels for participation and sharing. Everyone isn't comfortable speaking up in a group. Everyone doesn't feel equally empowered in a meeting: like many meetings, this one had a hard core of folks who were veterans of the group, with others who were new – and less likely to be comfortable speaking up. Everyone doesn't work the same way: digital channels are delightfully "asynchronous" for those of us who suddenly realize at 2 AM what we should have said or asked in the session the prior afternoon. And if we want to engage younger colleagues, we figured, we need to offer the channels they use.  (My good friend and former colleague Bonnie Cheuk taught me this concept of "multiple channels" during ERM's own strategy process 5 years ago.)
It's easy to fall into the digital trap, though. Digital channels are great ways to sustain contact or pass on information.  But it's very hard to build relationships and trust digitally. Those take face-to-face contact with real give and take.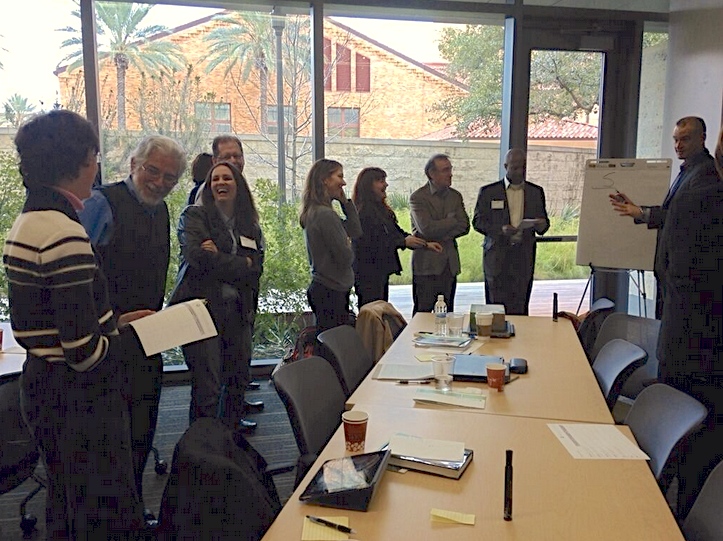 Between the US BCSD meeting and a session with The Conference Board's Chief EHS Officers' Council the week before, I'd had 50 real conversations in two weeks.  It was tiring, but fantastic. I got to know colleagues better. I made new contacts I never would have met on-line. We found real connections we never would have discovered with laser-focused tweets or articles reposted on LinkedIn. We talked about children and grandchildren, houses and apartments, illnesses and losses, paths that crossed in strange times and places. We found human connections we can build on going forward.
Not everyone has the luxury of time and travel to make those connections. Not everyone is comfortable with walking up and talking to strangers.  There is real value in including more people by using multiple channels, digital and analog, remote and face-to-face.
Still though – talking with people, the most social media.  Who would have thought it?
I know there's nothing new or dramatic in all this.  But it was a useful reminder for me.
[Scott Nadler is a Senior Partner at ERM.  To share this post, see additional posts on Scott's blog or subscribe please go to snadler.com. Opinions on this site are solely those of Scott Nadler and do not necessarily represent views of those quoted or cited, ERM, its partners or clients.]